Myntra Insider Deal – Hello Guys, here's a loot deal from Myntra Insider. Myntra Insiders get a super duper awesome shopping loot. The Rs.300 WROGN products are yours for free.
Myntra Insider has a special offer where you can get flat ₹300 off WROGN products with no minimum purchase To redeem this coupon, you will need 100 super coins. Flipkart super coins can only be used if you have the same number connected with Flipkart.
How to Claim and Get ₹300 Products Free from Myntra:
1. Myntra Insider customers click this link first – Claim coupon
2. Use 100 super Coins to claim the coupon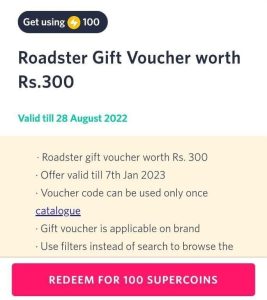 3. Get a flat Rs300 discount coupon code. Copy the code.
4. Go to this WROGN Page. Click Here
5. Choose any product and create a cart worth Rs300+
6. Step 3.
7. Flat Rs300 will be added to your cart.
8. You must pay the rest! Done!!
9. Enjoy !!
Myntra Insider: Flat Rs500 Discount on Puma Products
Myntra Insider Loot:

Flat Rs500 Off On PUMA using 100 Super coins
Claim Reward: https://bit.ly/3YwG8H9
Products Eligible: https://bit.ly/3V4oRSX
*After Claiming the Coupon, the Final Price will be approximately Rs.100-200
MYNTRA INSIDER: WHAT IS IT?
Myntra Insider, Myntra's loyalty program was launched in September 2018. Myntra Insider is Myntra's loyalty program, which offers customers a variety of benefits and privileges. The core benefits of Myntra Insider include extra savings via coupons and vouchers as well as host partner offers. VIP access to huge sales events is also available. You can also get fashion advice from top celebrity stylists. Only registered Myntra customers can opt into this loyalty program.
How do I redeem Myntra Insider Points?
Step 1: Open the Myntra App for your smartphone.
Step 2: Tap on the 'Myntra Insider icon' at the top left.
Step 3: On the dashboard, tap on the option 'Redeem tab' and select the
suitable offer.
Step 4: Tap on "Redeem" and enter the OTP you have received.
Tap 'Submit' to send your registered mobile number.