Freebies, Free Sample In India, Born Good Home Cleaners Free Sample – Hello Mspdeals Readers!! You must get a bargain on Free Sample In India Post from this page and you'll receive a variety of freebies right delivered to your doorstep! This offer is now available. all the winners will receive the born good household cleaners trial pack, which includes four free Test Packs from Natural Good Products.
Join Our Telegram Channel & Get Instant Loots
The regular cleaning products you've been using for years similar to those designed to maintain your clothes and home are completely unsuitable for cleaning. These cleaners are laced with toxic chemicals which are harmful to your skin, clothes as well as the earth.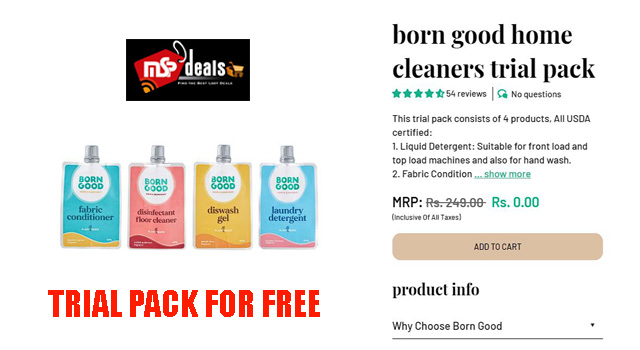 Kit Contains:
This trial pack consists of 4 products, All USDA-certified:
(1) Liquid Detergent: Suitable for front load and top load machines and also for hand washing.
(2) Fabric Conditioner: 2x softness and fresher smelling clothes.
(3) Dishwash Gel: Tough on grease and gentle on your hands.
(4) Floor Cleaner: Safe for kids and pets and you.
Get the Born A Good House Cleaner Sample for FREE! Try Before You Buy Offer :
1. First of All Open the Given Link to Get Your Born Good Home Cleaners Trial Pack FREE Sample.
Born Good Home Cleaners Trial Pack
2. You can see Born Good Home Cleaners Pack and click on the Add to Cart Button.
3. The price will be Rs.0. Simply click on the Buy Now button.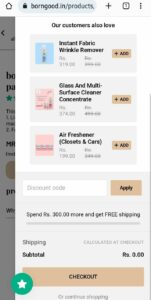 4. Check out your shopping cart and proceed to checkout.
5. Please fill in your shipping details.
6. There is a shipping fee of just Rs.99. You can also select the cash-on-delivery option.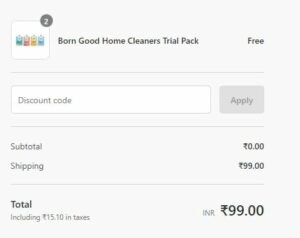 7. You will receive a confirmation email after you have successfully made your payment.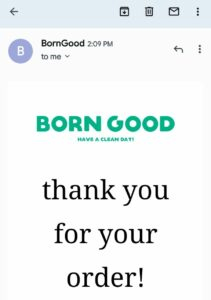 8. Since this is a trial package, Bron Good is limiting it to one set per customer.
---
Liquid Detergent We've loaded these liquid detergents up with potent plant-based ingredients that remove staining, cleanse deeply and help keep your clothes fresh. Modern fragrances don't dominate, but they do last until when you wash the following day. You can use them to wash your regular laundry, linen, and towels. They're suitable for front loaders and top loaders and hand wash machines too.
Fabric Conditioner This is a specially-formulated fabric conditioner for more purposes than just making your garments soft. Its BioBased ingredients penetrate the pores of every fabric, working inside to soften them, while also increasing their wicking abilities. The naturally hydrophilic nature of the product helps keep dust out and stops sweat from collecting on the surface of your clothes fresh and more supple. Include it in the final cycle of washing for maximum advantages. Additionally, the spicy scent of pepper, citrus, and woody musk will keep your clothes fresh up to the time of your next washing.
Dishwash gel: The highly concentrated blend of potent plant-based ingredients makes this dishwashing gel extremely tough on grease, yet it is safe and gentle for your hands. This means you can enjoy sparkling clean dishes without the consequences of itchy hands, rough skin, and chemical irritation. Born Good Dishwash Gel deep cleanses and removes grease from kitchenware and Utensils efficiently, using only a small amount of water thanks to its concentrated formula, leaving no odors or sticky residues to be left behind.
Floor cleaner: We know that an effective floor cleaner will perform more than simply scrub the floors clean. It is most effective when it enhances your home's modern design by disinfecting flooring, adding the scent of a non-toxic, non-toxic, and making it safe for pets, children, and yourself. That's why we've developed the Born Good floor Cleaner to accomplish. This floor cleaner derived from plants doesn't leave any sticky residue like other floor cleaners. It efficiently kills germs, neutralizes bacteria, and helps keep your floors spotless.